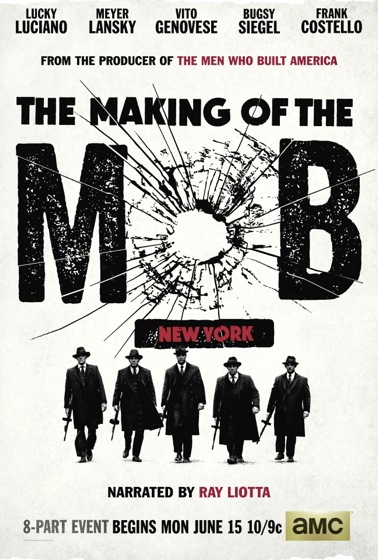 Lucky Luciano, Meyer Lansky,Vito Genovese, Bugsy Siegel, Frank Costello
Don't count the Mob out for summer! AMC has announced it will be airing a new docu-drama starting June 15th, 2015 at 10/9C. It's an eight part mini-series on five notorious mobsters who rose to power in the Mafia, in New York. It covers over 50 years of history beginning in 1905 and follows the five families that started the American Mafia. The show will be narrated by actor Ray Liotta, from Goodfellas.
.
It'll be good to see, or at least hear, Ray.
In addition to old footage of the mob, and special effects, the series will feature interviews with individuals who were part of the mob history and have first hand information, including historians, authors, actors, law enforcement personnel, and family members.
AMC is advertising this series as part of "Mob Mondays" as each episode will be aired after a well known iconic mob movie:
The Godfather
,
The Godfather Part II
,
Goodfellas
,
American Gangster
,
Donnie Brasco
,
Scarface
,

Casino
and
Carlito's Way
.
If you are interested in mob history and the true stories of the men who made the New York mob so powerful, you will want to tune in to AMC Monday nights! I know I will.
Here is a little "first look!"