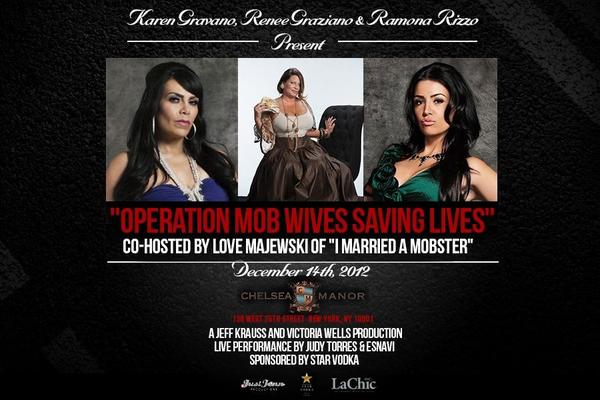 Ever since super storm Sandy hit on October 29th, 2012, our Mob Wives have been trying to do everything in their power to raise money for the victims of Staten Island. They made time, almost immediately, to go to the hardest hit neighborhoods with food, clothing and sponsored various fund raisers to give families some relief while they wait for Federal money. If you haven't been able to help out and still would like to, you have another chance on Friday, December 14th, 2012 at the Chelsea Manor located at 138 W 25th Street in NYC. That is when the Mob Wives, Renee, Karen and Ramona will be doing another event called, "Operation Mob Wives Saving Lives." The event will also be co-hosted by Love Majewski, who starred on the series "I Married A Mobster."
I know this is an especially busy time of the year, but it's an opportunity for fans to extend a helping hand to those who have lost homes and all their worldly possessions through no fault of their own. It's the best way I can think of to put this season's holiday spirit of giving into action. As a bonus, you will be able to meet with your favorite Mob Wives, whose hearts are as big and wonderful as their personalities.
I have also found a short video advertising the event!
Picture and Video Credit: Operation Mob Wives Saving Lives