Graziano Macaroni Company
Since before the first show ever aired, we have been blogging about Mob Wives, the cast, the scandals, the crimes, the families etc. But why did we really start this blog? It wasn't our love for the mafia that started it all, it was our love of writing. Mob Wives gave us an excuse to write blogs and have some fun. Mob Mistress and I have our own unique style of writing, hers being much more colorful than mine. And because we love to write, our blog became very successful in a short amount of time. Not that we were looking for any kind of success, we just wanted to write and needed a subject . . . lucky Jennifer Graziano that we happened upon her show to focus on!
Now when Mob Mistress titled our blog, very wise woman that she is, she did it with the express intention that while we cover Mob Wives, we can always write about anything and everything under the sun. So if you look closely at the title and description at the top, you can see that the subject matter was left wide open for that and the "dots" between "M.O.B." really stand for "Miserable Often B*tchy" Wives, not Mob Wives.
New York Time Best Seller
Mob Wives, the show and the blog, is not just about a reality television show. Mob Wives is about following your passion and dreams wherever they may lead. I have often heard Jennifer Graziano speak about this in interviews. Jennifer had a love of writing and was doing that for a very long time while pursuing her education and career. She never gave up on her dream of one day getting her ideas on television and even the movies. I know she is constantly busy pursuing other projects while producing Mob Wives, it's spin offs and products. She is developing a brand for her own empire, as are all the cast members who are also pursuing the things they are passionate about. Jennifer's newest venture, due to launch in a month, ties in with the recently released cookbook, "How To Use A Meat Cleaver." It's called the "Graziano Macaroni Company," and it will include many products imported from Italy including pasta, olive oil and sauce (yes, the jar says sauce, not gravy).
Karen is a New York Times best selling author in addition working on numerous other business ventures, Renee has her Mob Candy line and two books, Drita has her make-up store, Carla has her soap and wine lines, and Big Ang has expanded the Drunken Monkey to Brooklyn and Miami, as well as her own line of wines. And, Mob Wives has been picked up for a 5th season!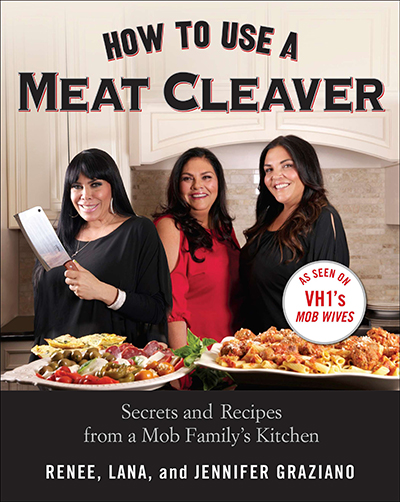 Traditional italian recipes to "die" for!
And what should we take away from all this? I think there is a very positive message here that we can all learn from. When you follow your dreams and do what you are passionate about, you can make them a reality. Mob Wives only aired for the first time three years ago and look now many things have grown out of it. Jennifer had a vision and she didn't let anything get in her way. She believed in herself. She told herself she could do this and she went out and made it happen. Mob Wives is a means to an end that all started because a young girl loved to write and really believed that one day something would come out of all her words. I don't think there is a limit to what Jenn can and will do. But more important than what I think, is what Jenn thinks, and Jenn thinks the sky's the limit.
Best of Luck Jennifer on the Graziano Macaroni Company and I look forward to see what else you have "cooking" in development.