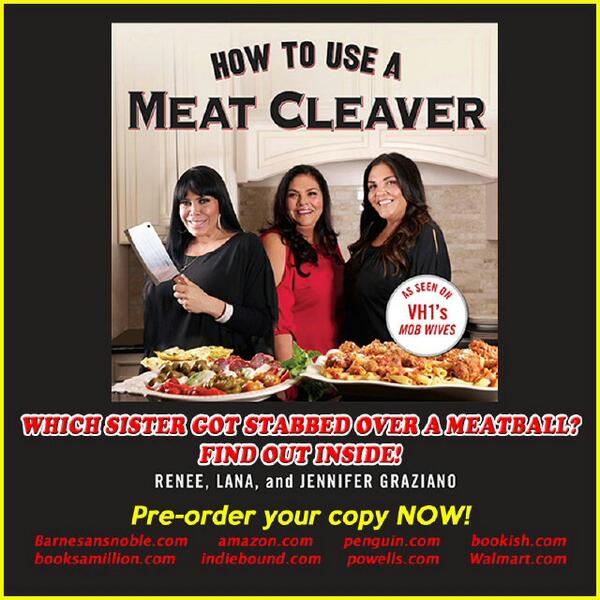 Chiara dubbed me the "Mob Chef," so it's only natural that I am very interested in "How To Use A Meat Cleaver," by the Graziano Girls! I can't wait for the book to come out so I can try all the recipes. I will even blog a couple of them and let you know my expert opinion. In the meantime, I tracked down Jenn Graziano so she could answer a few questions about their book while we wait for the February 4th launch date!
Thank you Jenn, for graciously taking time out of your busy schedule to answer what we need to know!
Jenn, please describe your cookbook, "How To Use A Meat Clever," and what readers should expect.
Obviously, by the name, you can tell it is a tongue in cheek approach to our lives and what is in our kitchens! However, the recipes are as authentic as they come. They are recipes passed down from our grandmother to us, as well as some from friends and family along the way. We pay homage to all of the cooks in our lives who we have come across and what they have taught us. But mostly these are family recipes straight from Italy. Something you would eat if your grandmother was cooking it herself!
How is this cookbook different from all the ones already out there?
In addition to recipes, we share with the reader unique, funny, and heart felt family stories centered around food - like how Renee once ran out of bread and used potato chips in her meatballs instead or how to sneak meatballs into prison. The stories give you an inside look into how we grew up, how we eat, and how we are a family.
What was the earliest age each of you started cooking?
My grandmother and I used to make the chicken cutlets together starting when I was about 4 or 5 years old. I always enjoyed breading them and getting my finger tips full of bread crumb. Lana started very early as well, and did the most cooking as she was the oldest and some times responsible for cooking for me and Renee. Renee cooked a lot with my dad starting when she was about 7 or 8.
Where or from whom do your recipes come from?
Mostly from our maternal grandmother, dad, mom, cousin Jimmy, and for me - even Big Ang!!
Lana and Renee whack a filet!
Who would you say has the best culinary skills?
Lana by far has the best culinary skills of the three of us. She has owned and operated several restaurants - some where she even cooked herself. Her last restaurant - Mangiare - had lines around the corner every day for years. Renee is the most eclectic in the kitchen.....I did mention the potato chips right?? She is a great cook as well however. I have never proclaimed to be the best cook, but the dishes I do make are amazing.....and just like grandma, mom, dad, and Lana have taught me....and are still teaching me.....we want this book to teach everyone how to make real, authentic, home style Italian food.
Do each of you have a favorite recipe or type of food you prefer cooking?
Lana likes to cook everything.... and everything she makes is delicious. My favorite type of dishes to cook are the seafood dishes - linguine and clam sauce, shrimp oregonata - but, as Chiara knows, I make some mean chicken cutlets. Renee and I are in a battle over who makes them the best, but she also loves to make a Sunday Sauce and meatballs.
Who makes the best desserts?
Lana and I are really the only ones that like to bake, but I must say my niece Sonni is the absolute best. So much so that we told her if and when we ever do a dessert book she must be included.
What's Cookin'?
What did you enjoy most about the making of this book?
It really brought us back together as sisters again. Renee and I have been so busy with Mob Wives we hadn't spent much time with Lana. The book gave us an opportunity to make up for lost time and laugh with one another. Also, the making of the videos for the promotion of the book was fun. They are really meant as funny vignettes and not literal cooking demonstrations. Our favorite is the sausage and peppas with Renee's hilarious rendition of a guido!!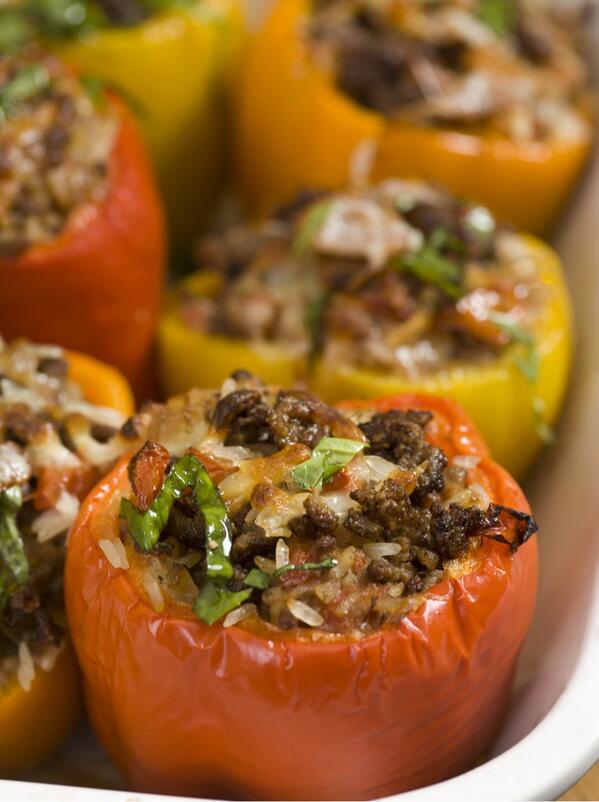 Famous Graziano sausage and peppas
Can you tell us any of the
book signing dates
and locations where they will be held.
STATEN ISLAND, NY
Tuesday, February 4
6:30 PM arrival
7:00 PM to 9:00 PM ET
author event. bookstore.
BARNES & NOBLE
Staten Island
2245 Richmond Avenue
Staten Island, NY 10314
_______________________________________________________
BROOKLYN, NY
Wednesday, February 5
6:30 PM arrival
7:00 PM to 9:00 PM ET
author event. bookstore.
BOULEVARD BOOKS & CAFE
7518 13th Avenue
Brooklyn, NY 11228
_______________________________________________________________________
NORTHVALE, NJ
Thursday, February 6
6:30 PM arrival
7:00 PM to 9:00 PM ET
author event. bookstore.
BOOKS & GREETINGS
271G Livingston St
Northvale, NJ 07647
AND in other locations:
Feb 19
Miami Beach location of Books & Books at 6:30pm
March 5
Book Soup
Los Angeles, CA
7:00pm
Thanks for the interview, Jenn, and the inside scoop on "How To Use A Meat Cleaver"! I cannot wait to get my hands on the book and try out your traditional Italian recipes!
And PRE ORDER the book today
!
Written by: Carmela Corleone, Mob Chef