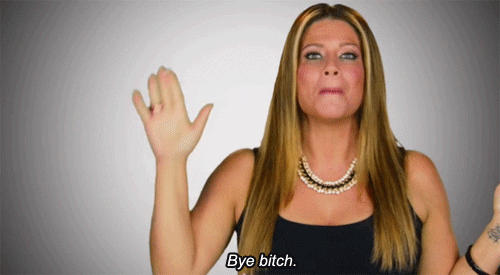 Looks like Karen's little gif is coming in handy once again. I just went over Drita's Twitter timeline and found out she says she is leaving Mob Wives after this season. Yeah, can you believe that? No wonder she can tweet whatever she feels like about her boss, Jenn Graziano, who gave her an amazing opportunity. Now it makes sense why she doesn't care about her cast mates. She is blowing everyone off for what she says are "bigger and better things." Hmmmm. How ungrateful is that? Here see for yourself . . .
.
There you have it!
Rumors have been circulating for almost a year now that Drita is getting her own spin-off reality show. Drita implied that her husband, Lee, may be part of a "future" project. So we could be looking at a "family" show of some kind. That's all well and good, but maybe Drita shouldn't be burning her bridges too soon. Even if she has a new show and it hits the air waves there is no guaranteeing it will succeed. Here's a few titles I came up with in case they need one: "Hey Drita, Get Me A Beer," "Keeping Up With The Raccoons," "Sock Her, Mom!" "Who's The Lady Boss?"
I guess Drita never heard the expression, "Never snub people on your way up, they're the same people you will meet on your way down?" I only hope she takes that Gnat with her. Now I am going to have to echo Karen's well known sentiments . . .
bye, b*tch, bye